Nearly six months into 2023, can you believe it!  George and I are sitting watching the rain tumble down off the sandstone cliffs, imagining what the Big Drip is currently doing!  Walking a section of the Panorama route recently, it is amazing how you can see forever on a clear (not rainy) day this time of year.  Sitting on top of a mountain is a good way to put life in perspective.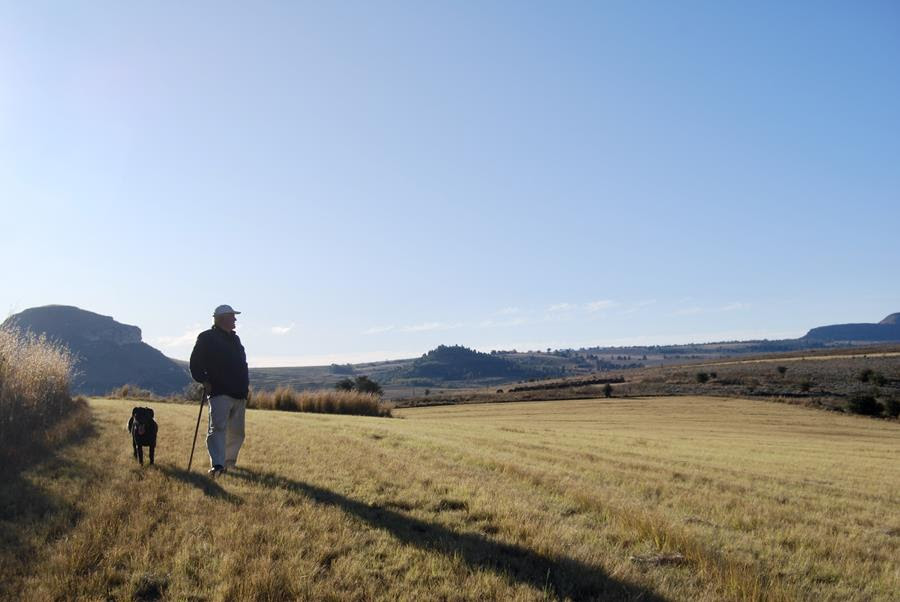 On a clear day you can see forever!
Looking ahead to June…
It's COMPETITION time!
Wyndford is collaborating with Clarens Xtreme to the value of R9200!
Yes really… you have done our zip line now it's time to Go Big! REALLY BIG!
We are offering a Two Night stay for a family of four to the value of R8400 which includes all your meals, unfortunately load shedding, great hospitality, amazing walks and scenery and lots of things to do! Clarens Xtreme are going to give you an experience of a lifetime with their amazing Zip Lines worth R800!
AND HERE IS WHAT YOU HAVE TO DO:
1               Follow and Like Wyndford Holiday Farm and Clarens Xtreme
2               Tag four friends
3               Share (If you are not on social media share to friends)
4               Click and enter…
This could be you soon!
Competition closes 30 June 23
Our May Madness month was great fun! Sorry if you missed it, but it meant that we saw friends who hadn't been for a while due to various reasons and… it was so special! Guests who confirmed their marriage vows for 20 years at Ibis Gorge, coming to celebrate 30!! And so many more… we love you and value you all.
FULL BOARD
(All-Inclusive Option)
Luxury – R1900.00 per person sharing
Standard – R1400.00 per person sharing per night
Economy – R1000.00 per person sharing
This package includes; three meals per day, all guided hikes, evening games, tennis, swimming, pool, snooker, fuze ball, table tennis, zip line, river tubing, abseiling, early morning coffee/Milo brought to your room, Morning and afternoon tea with home bakes, jungle gym and forest tree houses and bowls.
ROOM ONLY
Luxury R1600.00 per person sharing
Standard R1100.00 per person sharing per night
Economy R700.00 per person sharing
ADDITIONAL EXTRAS
Breakfast R115.00
Lunch R185.00
Dinner R250.00
Single Supplement Rate at R250.00 per night extra
Children 2 – 12yrs at 50% off the Adult Rate
Children under 2yrs stay for FREE
Pensioners Rate at 30% off the full board rate out of season
20% discount for a 4 night or longer stay out of season
Horse Riding can be provided at an extra cost
Along with the rest of the country, we continue to struggle with the stagnant economy and what it means for the tourist industry. We try to celebrate the small gains achieved – our cows are pregnant so good milk coming shortly, we received our supply of crisp new pillowslips and our sheep have subdivided so lamb will continue to be on our menu!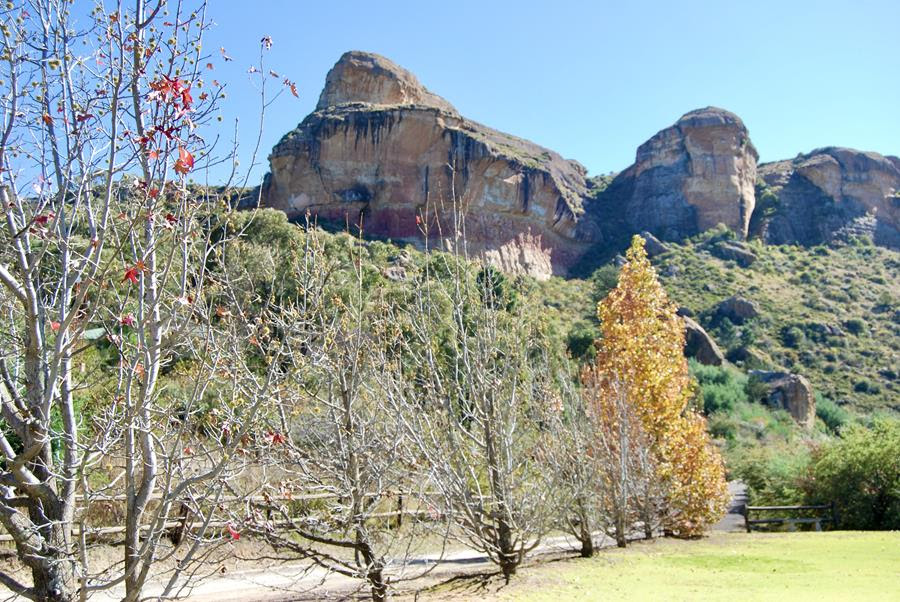 Always one that has to be different!
The leaves are standing nude in the gardens with their stark silhouettes against the blue skies. The Eastern Free State Highlands is a wonderful area to visit at this time of the year (note to photographers!) so put us on your map and pay us a visit. If you are passing through… maybe heading up to play in the snow in Lesotho we have great coffee!
Our welcomes are always warm, with the odd lick from Lunar and Mollie and cuddles with Felix.
About the Donkey…. ever tried to get someones ears and nose in a picture…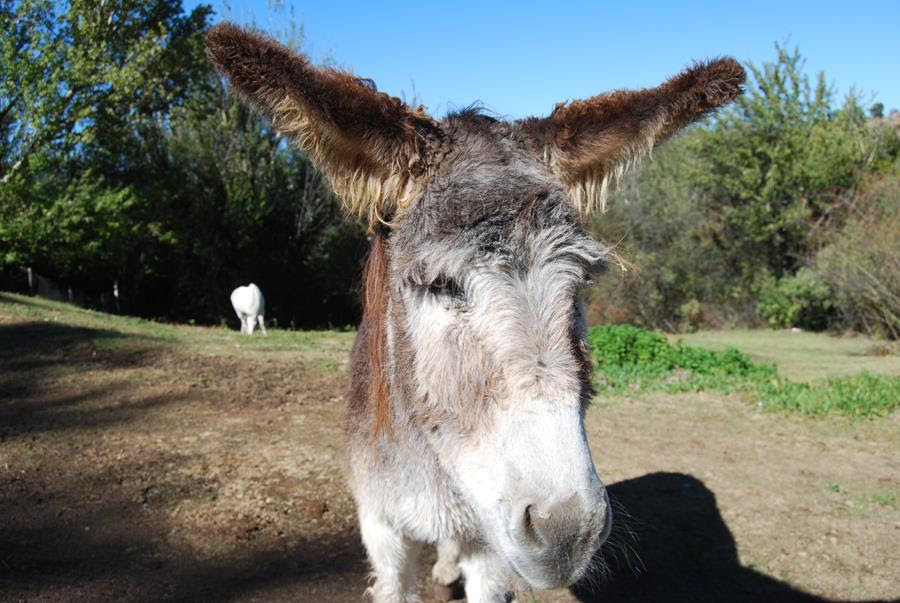 Its not right Mom, horizontal ears aren't my look….!